4 lines 20 character each, LCD alphanumeric display with back light.
Waterproof keyboard and front panel.
Fine tough metallic casing with lock.
128KB data memory, up to 1,024KB.
Up to 25.600 people local database with users name and privileges.
High quality and high speed embedded thermal printer.
Input / output signals for peripheral equipment control, turnstiles, lights and / or alarms.
Real time period control, service repeat, service rights and others.
100 hours embedded UPS back up, with magnetic stripe readers.
Secondary battery data back up, in case of main internal UPS battery discharge.
Compatible with almost all kind of readers and combinations, Wiegand, magnetic stripe, bar code, biometrics, proximity, HID, iClass, TI*RFID, MIFARE.
Centralized application update. No hardware must be changed.
RS232-422, TCP/IP Ethernet or Wi-fi 802.11. Direct connectivity (does not need a PC) to servers and operating systems UNIX, Linux, Windows 2000, Windows XP, Windows 7, Windows 2003 Server, Windows 2005 Server, Windows 2008 Server.
IP v6, ENA "Extended Network Address ready".
Full MicroControl Family compatibility..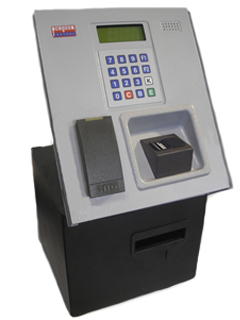 New Catering Control Terminal: HID iClass contact less reader, Morpho biometric reader, and CBM Citizen printer equipped. In other words, your company under control.