MicroControl manufactures different lines of time recording equipment, they are designed to provide an effective solution to all modern enterprises, time recording control needs.
Model MCF200
4 lines 20 character each, LCD alphanumeric display with back light.
Waterproof keyboard.
Fine tough metallic casing with lock.
512KB data memory, up to 1024KB.
More than 60.000 people local database with users name and features.
High quality and high speed embedded thermal printer.
Input / output signals for peripheral equipment control and alarms.
Model MCT112
2 lines 16 character each, LCD alphanumeric display.
Fine 1mm gauge, tough metallic casing.
256KB data memory, up to 512KB.
More than 15.000 people local database with users name.
Common Features
User friendly. Two readers allows people to just pass the card with out pressing any button. Readers can be programmed to accept both, entrance or exit in peak periods.
100 hours embedded UPS back up, with magnetic stripe readers..
Secondary battery data back up, in case of main UPS battery discharge.
Real time period control, holidays, pass back, message schedule and others..
Compatible with almost all kind of readers and combinations, Wiegand, magnetic stripe, bar code, biometrics, proximity, HID, Morpho Sagem, Bioscrypt (L-1 Identity), TI*RFID, MIFARE.
Centralized application update. No EPROM (hardware) must be changed.
Direct connectivity (does not need a PC) to servers and operating systems UNIX, Linux, Windows XP, Windows 7, Windows 2003 Server, Windows 2005 Server, Windows 2008 R2 Server.
IP v6, ENA "Extended Network Address ready".
RS232-422, TCP/IP Ethernet or Wi-fi 802.11. Up to 64 controllers can be connected to one TCP/IP MicroLink micro server, or net socket. Each additional socket allows 64 more MicroControl equipment connection.
Full MicroControl Family compatibility.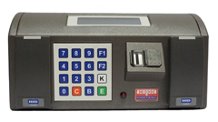 MCT114IEM Dual iClass Proximity Readers, plus Morpho biometric Id., steel case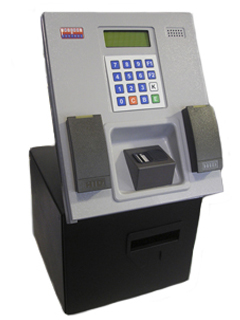 MCF210IEM plus CBM 1000-II Thermal Printer Inside the steel caseMCT112ME Dual Magnetic Stripe Readers Plus Steel CT-S310 Printer Casing